Lombardi Interiors (on Hwy 157 - 1.5 miles south of Hwy 270) is a unique business serving the stylish and quality conscious communities of the Metro East and St. Louis areas since 1964. A beautiful, yet relaxed destination, offering the latest in flooring selections, quality furniture, custom window treatments, etc., unique accessories, lovely original artwork, and licensed interior design service.
Quality & Service:
All of our products are selected to meet the standards of quality, value and good taste our clients have grown to expect and deserve.The Lombardi family business of 46 years is committed to service that extends beyond the point of sale.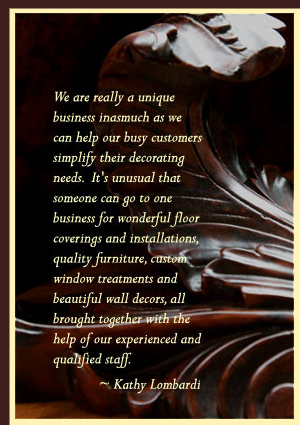 Our close customer relationships and follow up begin from the moment you enter our showroom until you receive your order in total satisfaction. This commitment is reflected throughout our experienced and friendly staff.
Commercial & Residential:
The extra dimension that Lombardi Interiors adds to a project is a lifetime of experience in both commercial and residential challenges. Whether it's supplying flooring and installation to commercial leased properties, or completely transforming a restaurant, court room, funeral home, public library, retired living facility (to name a few), one room, a "Total Home," or just one window treatment - we can do it all. Our objective is to make the entire process as smooth and trouble free as possible, while completing the projects on time and within budget.